Description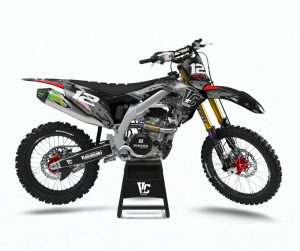 FULL GRAPHIC KIT INCLUDES THE FOLLOWING DECALS:
Front Plate   (with your name & race number)
Side Plate set  (with your name & race number)
Airbox Set
Shroud Set
Front Guard
Rear Guard   (with your sponsors logo's)
Lower Fork set
Swing Arm set
*PLEASE NOTE*
*Up to 3x Artwork proofs supplied with purchase, no extra charge.
*Any additional artwork proofs required after first three will incur in design fees.
*Design may vary slightly to product image due to different year model templates.
*All sponsored logo's please be emailed in a PDF or EPS file only.
INFO: Printed on a revolutionary print film with FLO Technology, allowing for bubble-free application, dramatically reduces your installation time and eliminates bubbles. We use a flexible premium overlaminate, obtaining unreal protection and shine, with your choice of matte, gloss finish .